Darkness
What is darker than a mind closed tight
Against the illumination of Truths pure light?
Where misinformation can root and hold sway
Lurking in the shadows throughout the day
To emerge with insinuation and artful guile
Sharp fangs disguised in a saccharine smile.
Whispering and lying, it works to deceive
Unwary innocents who naively believe
The poisonous untruths that it deftly weaves.
©12/03/03
Thurman P. Woodfork
NURSES NAP
Darkness spills all around
a cloak to wrap myself in
from daily cares that abound
A veil lain down to calm
away the cares of the day
a dark midnight balm
where my thoughts run free
and nothings worrying me
Nothing save a scream
from a tortured brothers
fevered dream
intruding on my realm
of velvet dark rest
with its cutting edges quest
Compassion keeps me awake
and guilt waits at sleeps gate
Now my rest is not complete
knowing his nightmares repeat
For it is in the darkness
that the demons feast and eat

© 12/03/ 2003

Faye Sizemore
Welcome Home
A thousand yards is all that separates the hearts of all good men
whove walked the walk in combat boots and shared nightmares with the pen.
Time and distance mean nothing when the pain of war is shared
because open hearts and open arms help filter out despair.
When absence causes pain and silence makes for heavy hearts;
when uncertainty gives birth to fear which in turn keeps friends apart
then the time has clearly arrived for a new beginning - a brand new way
to stand in love and friendship so, together, wars demons we can slay.
©Anthony W. Pahl
2 December 2003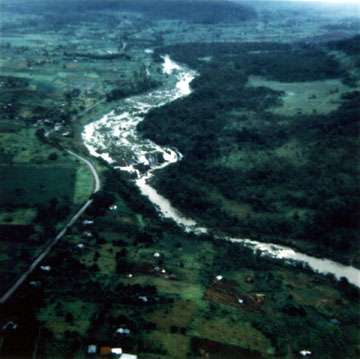 Moonlight on the Delta

Full Moon over the Delta
Cruising through the night
Jungle to the left of us
And jungle to the right

The engines moaning softly
It's all that we could hear
While we glared into nothingness
Drenched in our own fear

Marines aboard a steel gray ghost
Gliding on liquid death
The stench of rotting jungle
Made it hard to draw a breath

Fishing boats and villages
Glowed dimly by lantern lights
As a thousand eyes in the darkness
Pierced our souls as we drifted by

We slipped into the blackness
Just around the river bend
When flashes from the tree line
Echoed loudly with out end

Bullets sparked upon the steel
Then ricochet into space
On our knees we opened fire
Survival etched upon our face

The ships 50 caliber roared to life
Sending hell into the trees
Then silence fell upon the Delta
Gun smoke hung low in the humid breeze

Water rippled beneath the ghost
As it continued to glide along
Into the dead of the Mekong night
We searched for the Delta dawn

Boon.
©12/06/03
Richard Preston
The Plan
First week in December
First fall of new snow
Long ago the birds did go
The ragged coated hatless man
huddled against the bricks
where the wind was lest to land
Should have followed the birds
Don`t know if he`s gonna make it..
Should have headed to a warmer climate
The tenants of cardboard city
have moved to the alleyways
lookin for some warmth and pity
The ragged coat is pulled ever tighter
Gonna seek a sleep and a meal..
downtown where the lights are brighter
The snow falls deeper
and settles on the shoulders
of this warrior turned seeker
He spies a closed jewelry store
with it`s windows all aglitter
and sets about his chosen chore
Finds a brick and gives a throw
.. just like he lobed those grenades
in the Vietnam jungle so long ago
A splintering sound.. the window breaks
and he smiles as the alarm sounds
Sometimes a man does whatever it takes...
Sirens screaming.. coming from the right
Flashing lights coming closer.. and closer
A plan to be warm.. at least for tonight
Faye Sizemore ©12/3/03
Rockin` On Alone
Sittin` on his porch
in an old rockin` chair
.. his mind ramblin` here and there
Smelling supper cookin`
People drivin` by
Wavin` and a lookin`...
Wavin` at ol` man Barrett
..Everybody knows him
..he being a three war vet
Wonder what he`s athinkin`
..just sittin` there
rockin` 'n` root beer drinkin`
I bet I know
and if you`d stop and ask
he`d sure tell you so
With a quiet sigh
..and a tear in his eye
you would hear his reply..
'Things are peaceful on my porch
..in this America.. land of the free
Just wishin` my old buddies wuz` here
.. sharin` and rockin` with me'...
Faye Sizemore ©12/4/03